Why Are Retail Analysis Tools So Damn Expensive?
We tried signing up for a leading retail analysis solution, but we couldn't even get a demo, as they require their clients to have a minimum annual revenue of $100m. And they aren't the most expensive in the market. How crazy is that?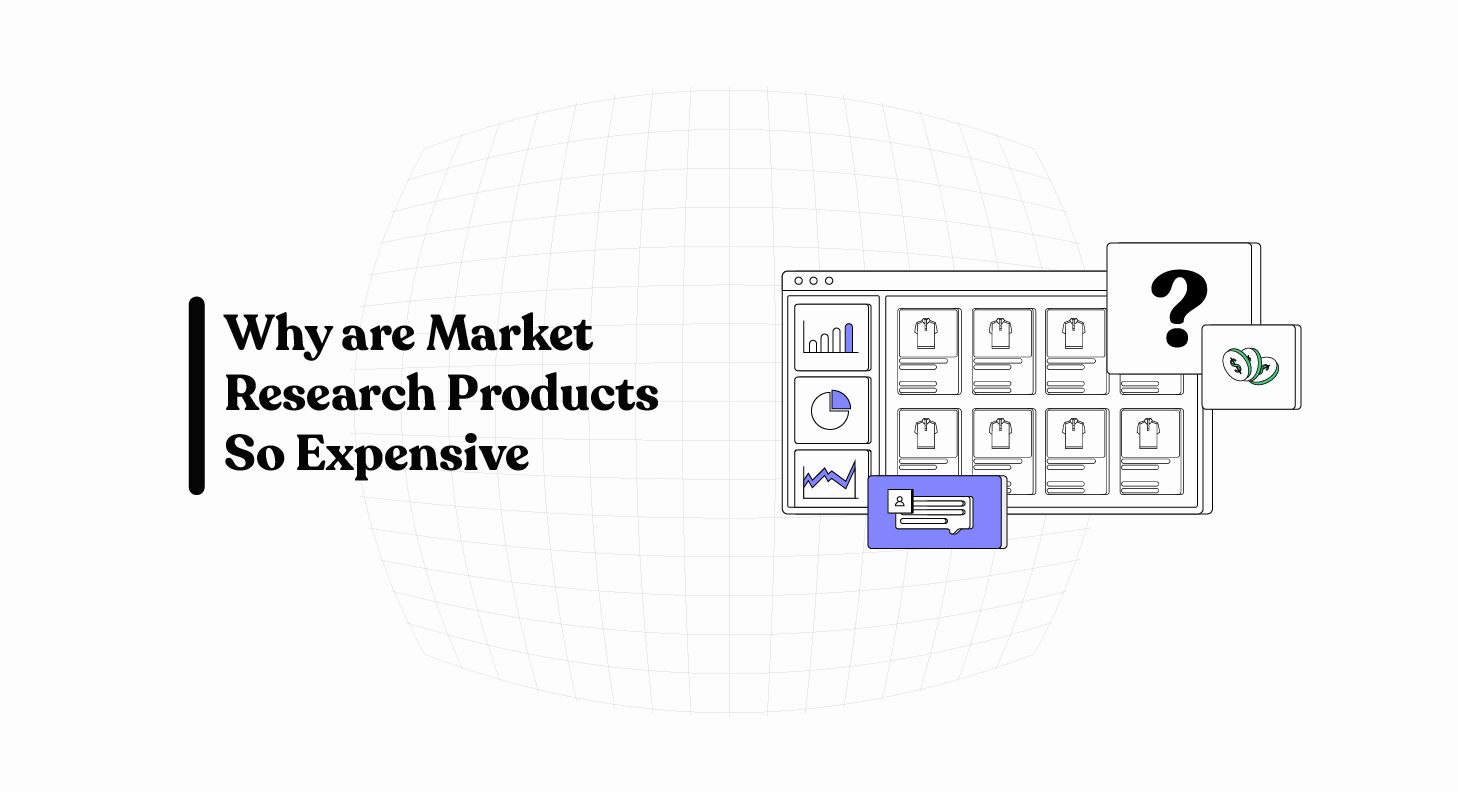 Introduction
The fashion retail industry has experienced remarkable feats over the years, with a multitude of fresh and innovative ideas streaming in by the day. This rapid evolution is due to the ever-changing wants of shoppers. The leading fashion brands and manufacturers aren't slacking either. They remain up to the task of meeting the wants of these shoppers, even before some of them realize these wants - thanks to Artificial Intelligence.
AI-powered tools such as Customer Review Analysers,Trend Analysers, and Demand Forecasters have empowered leading fashion businesses with the required data per time, with which they make valuable decisions that keep them ahead of their competition - and the market in general. These tools don't come cheap though. As a result they're usually beyond the reach of smaller fashion businesses with less budgets.
Why do fashion businesses have to pay a hefty price for research to succeed?
Let's delve into this puzzle, and proffer a solution.
The Value of Research
To understand this issue, it's essential to recognize that research acts as a compass for businesses who want to make big money. It is invaluable in assisting fashion businesses in understanding consumer preferences and market trends, and the most successful businesses are those who understand the customers best.
These businesses are able to accurately predict demand, and match the demand with adequate supply. In the fashion industry especially, market research tools by companies like EDITED and Stylumia help fashion businesses predict patterns, designs, and fits that shoppers would want to buy per season. They also help them benchmark pricing and supply with near accuracy, maximizing sales and reducing waste - a 12-figure problem in the fashion industry.
Little wonder that the global market research industry's revenue has surged by a staggering 358% since 2009, currently standing at $118 billion in annual revenue.
The Crippling Cost For Fashion Businesses
Retail Analysis solutions are very expensive and, in some cases, exclusive. Some of the solution providers only work with the largest players in the fashion industry.
PS: We once gave it a shot. We tried signing up for a leading retail analysis solution, but we couldn't even get a demo, as they require their clients to have a minimum annual revenue of $100m. And they aren't the most expensive in the market. How crazy is that?
Some argue that these expensive research companies are more interested in maximizing their profits than in contributing to the growth of the fashion industry (yay Capitalism!). This perception raises concerns about whether their motives align with the broader interests of the industry.
Why Are They So Expensive?
One primary reason for the high costs associated with retail analysis and market research solutions in fashion is their specialized expertise. They possess an intricate understanding of the fashion world, akin to detectives in the realm of style. This expertise is powered by years of data being gathered from leading fashion brands around the world, and millions of shoppers.
However, this expertise comes at a premium. According to a report by IBISWorld, specialized research and analysis require substantial investments in technology, talent, and data collection, contributing to the higher costs of these services.
Here are some factors that contribute to the high expense of market research and retail analysis solutions:
Error-prone and Time-Consuming Process: Traditional market research methods are prone to errors and are time-consuming. This complexity is one reason why market research/analysis solutions are expensive, as they require extensive resources and expertise.
Timeliness: Market research tools offer a significant advantage by providing near real-time data. This timeliness is essential for manufacturing decisions, which can be expensive if made based on outdated information.
Competitive Advantage: Access to real-time data offers a competitive advantage by enabling quick and informed decision-making. This advantage can translate into increased profits and market share, "justifying the cost".
Historical Data Analysis: Market research tools provide verifiable historical data, which is crucial for predicting future market dynamics. They require a vast amount of data points. The processing and storage of this data, as well as their use in training Machine Learning models over sustained periods of time, add to the overall cost.
Technical Expertise: Implementing and maintaining market research systems requires high technical expertise and the use of the latest technologies. Skilled professionals often demand higher salaries, contributing to the cost.
On The Other Hand…
The fact that these solutions cater exclusively to larger, more financially robust fashion businesses, is problematic. Yes, it makes sense that they can be a bit pricey. But why do they have to be so expensive that there is an elite club that grants access only to the wealthy and renowned, leaving many smaller and emerging businesses on the outside looking in?
We believe that fashion manufacturers and brands, big or small, should have easy access to valuable insights to help them succeed - at a reasonable price.
Lykdat's Retail intelligence: A Cost-Effective Approach To Retail Market Research And Analysis
To address this issue, a balanced approach is crucial. Research solutions should be efficient-yet-affordable… precise-yet-price-conscious… powerful- yet-accessible… You get the idea.
This approach would level the playing ground, make the competition fairer, and bolster the growth of the fashion industry at large.
Our retail market analysis solution, Retail intelligence, is effectively addressing the issue of high expenses associated with market research solutions. Picture this:
Uncover Deep Wisdom: Dive into the heart of customer sentiment and unearth hidden gems that fuel innovation and resonate with your audience on a profound level.
Empower Strategic Evolution: Sculpt your product and business strategies with precision, leveraging market insights to shape offerings that align seamlessly with market desires.
Surpass the Curve: Stay ahead of the competition by deciphering trends, analyzing top rival brands, and responding swiftly to the dynamic market landscape.
… At the fraction of a price!
But what's even more thrilling? The fact that Retail Intelligence has already been trusted by some of the biggest players in the fashion industry. At the core of our mission is to revolutionise the way fashion brands and manufacturers understand their customers and the ever-evolving market, at an incredibly accessible price point.
But don't take our word for it. Take our solution for a test ride, and experience the power of Retail Intelligence with this free demo account.
With Retail Intelligence, you'll get access to invaluable insights from consumer behaviours, market trends, customer reviews, and more - empowering you to make the right, R&D, design, procurement, merchandising, pricing, inventory and marketing decisions to succeed.
Conclusion
The puzzle of expensive fashion research is a challenge that requires resolution. Striking a balance between cost and accessibility is vital to ensuring the fashion industry remains a realm of creativity and inclusivity. By making research services more affordable and open to businesses of all sizes, we are ensuring that fashion continues to be a dynamic and inclusive space for innovation.
Join the market leaders, and gain a high-level understanding of market trends, by leveraging consumer insights from more than 40 million online shoppers, and over 900k pre-analyzed products from top global fashion brands.
Sign up for Retail intelligence today.
What Do You Think?
What's your perspective on this matter? Do you believe that fashion research should be more affordable and accessible to businesses of all sizes? Share your insights, and let's engage in a meaningful conversation about the future of fashion.