NEW: HOW TO BOOST CUSTOMER BRAND LOYALTY ON BIGCOMMERCE
Brand loyalty makes your customers continue to purchase items exclusively from your store. Here are some ways to improve brand loyalty
Brand loyalty is the dedication a customer feels toward a brand that pushes them to consistently buy their products and/or services, regardless of competitors or price. Brand loyalty is crucial to profitability, as most businesses get 65% of their revenue from repeat customers.
In addition to purchasing 90% more frequently than new customers, brand loyal customers are also considerably less expensive to retain, compared to new customer acquisition costs.
Brand loyalty is dependent on perception (image and experience). Customers that are brand loyal feel that a particular brand offers superior quality and customer service than any competitors, regardless of price.
As a store owner, one of your major goals should be to ensure customer loyalty to your brand, which will in turn guarantee consistent sales. Brand loyalty makes your customers continue to purchase items exclusively from your store  (provided your store offers that particular product).
WAYS TO IMPROVE BRAND LOYALTY
Connect with your customers
Connecting with your customers helps you to create a sense of belonging and community. Share your brand's new and exciting developments, or news and opinions in your space, to get your users enthusiastic and engaged. You can use social media to inform customers about new features, special deals and discounts, and the next steps for your company
Customer loyalty is ultimately about reaching out, nurturing and retaining the customers who really make your business. You should make sure your customer service is impeccable, particularly on social media channels. To improve brand loyalty, get personal with your customers on a regular basis to create a relationship that generates value for them, both in their hearts and minds. It's key to be proactive and not just reactive when it comes to customer success. Of course, it's imperative we listen to our customers when they approach us with challenges or issues, but we can create a much deeper sense of customer loyalty by proactively approaching customers and giving them the opportunity to give feedback. People buy from people, and people like quality and value.
Make sure your brand is consistent
Consistency is a vital factor in building loyalty. Your brand wants to feel the same to customers every time they interact with it. The importance of being authentic and consistent cannot be underestimated. Customers must be able to count on the company to deliver the same outstanding products and services over time
Make your customers comeback
Users will be more likely to return to sites they've already used in the past and had a successful interaction with. One option is providing incentives for your customers to return to your site by creating programs that reward loyalty to your brand or offering discounts or coupons. The greater the rewards, the more business you can expect. A major part of building your brand loyalty depends on your being able to guarantee your customers will want to return to your site. Loyal customers are more willing to stick around, and more likely to become strong advocates for your brand on their social channels and among friends. By understanding what makes your customers tick, engaging with them, and promoting their tweets and posts on your own social media channels you'll be able to create a sense of familiarity with your users.
Invest in Solutions that help your customers
One of the ways to guarantee customer loyalty is by employing means to make product search within your store as easy as possible. Numerous touch points in the regular retail customer experience have the potential to influence a customer's emotions positively or negatively. Different touch points are valued differently by different customers, For most online shoppers, the ease of finding what they want when they visit a store is really important. 'Search' is the first thing a customer with high purchase intent looks out for,  it is therefore crucial to make the process of finding items to buy as seamless as possible.
Have you been considering making your store more interactive by integrating text and image search? Get into the Lykdat Bigcommerce app.

WHY LYKDAT BIGCOMMERCE APP?
BigCommerce, a leading Open SaaS E-commerce platform for fast-growing and established B2C and B2B brands, is working with Lykdat to make it easier for people to discover products, What we've built would help businesses retain more customers and drive more sales by improving the search experience on their website. A website is more valuable when users can easily find what they want. They want to begin to purchase more often and that easily becomes their go to online shopping store.
With a simple installation, Bigcommerce merchants can enable their customers to find the right products even when they don't have the right words. Lykdat's cutting edge AI technology adds an image search feature to your storefront, which can increase your sales and engagement by up to 70%.
The retail experience is a crucial differentiator for brands. Price, value, and service are still significant, but it's the total customer experience that converts a casual shopper into a loyal customer who is in Love with your brand.
There is growing competition as customers are more demanding and increasingly open to other brands. With higher expectations, increased flexibility and ease of shopping, customers are now willing to walk away from brands that don't deliver on the customer experience they want, to stay ahead, brands need to be proactive.
Lykdat's Image search solution will make you bigcommerce store stand out and give your customers the best shopping experience.
Lykdat app allows your customers to search for products in your store (catalog)  by uploading an image of the product, thereby simplifying search. When you install the lykdat app on your storefront, you get the following package for FREE:

Upload up to 10,000 products
Execute 500 image searches

The above free tier package is aimed at enabling you and your customers to try out our image search feature. When your free tier usage is up, you are able to upgrade your plan. You can find more details on our pricing here .

HOW DO YOU INSTALL AND WORK WITH LYKDAT APP ON BIGCOMMERCE?
Login to your bigcommerce account
Go to your apps and search for Lykdat App
Click on the app banner and then the 'Get This App' button
You'll be taken to the login screen where you will select the store that will install the app
Select your store and click the confirm button to finalize the installment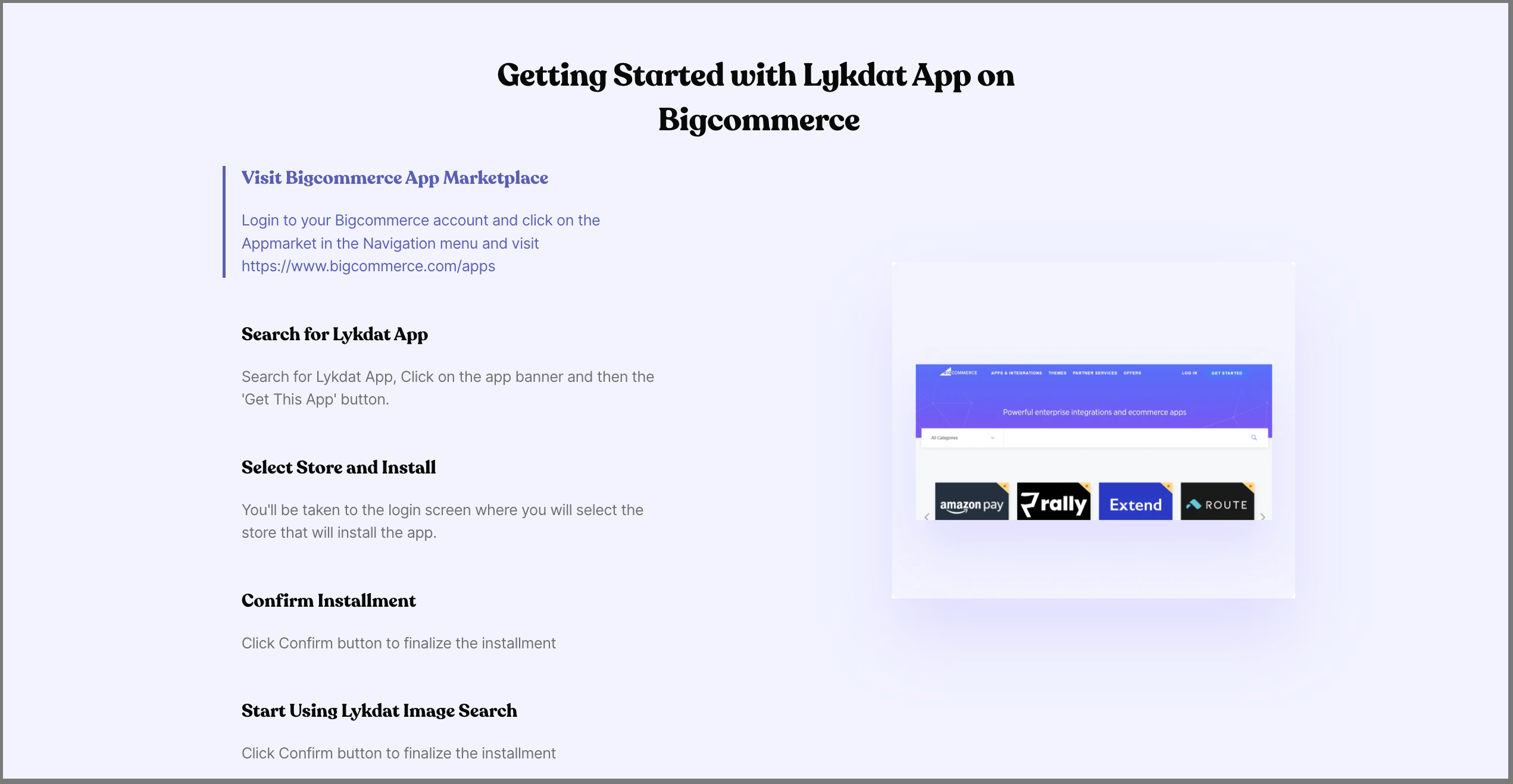 Once the app installs successfully, a catalog is created for you on Lykdat for business and your bigcommerce products get imported. Your customers are now able to use image search on your storefront for a better e-commerce experience.